Searching for the best Pakistani online wholesale web-store particularly exporting the men's blue kurta pajama to all over the world? Then I would like to introduce you to the faisalabadfabricstore.com. Being the manufacture & exporter we have to maintain the class of fabric so that it fulfills the customers need. At the Faisalabad fabric store, you will find your desired stitch blue kurta in Eastern & Western style & even in Children Garment. For online E-commerce business development, Faisalabad Fabric Store is now collaborating with Pasban IT Group to promote the ideas to enhance the business sense among people you want to start selling online.
Best textile sourcing agent from Pakistan name Mr. Ejaz who is supplying the Asian & tradition blue kurta pajama clothing 2019 designs that suites for all age groups. Usually, youngsters like to wear the blue color kurta with white pajama & here in this article we will lead you to those top-quality fabrics and latest trendy styles that are suitable for your appearance. As we got a lot of shades in blue kurta like royal blue kurta for men, navy blue kurta for men, sky blue kurta pajama the one can wear them on different events and what a bit of good luck for you that we have much stylish fabric and designing for function wears kurtas.
We are the specialist at our men kurta pajama & shalwar kameez 2019 fabrics collection. We are offering the best-unstitched fabric OR stitch with nice styling. And owning a stitching unit for Men quality sewing and make the kurta more stylish and trendy with the cut lines, shirt collar style, kurta ban style, side motifs embroidery work design or some pipping, short round kurta/kameez or Mazi style kurta.  And these blue kurtas pajama designs for men are available in all standard sizes S, M, L, XL and the plus-size like XXL & XXXL.
Some basic fabrics which we are manufacturing for blue men kurta pajama online collection are the Cotton, Paper Cotton, Cotton Satan, Wash & Wear, Karandi, Khaddar, Linen, Raw Silk. These fabrics are very popular in all eras, and the one can carry any style of kurta pajama with Waistcoat or matching with the contrast trousers.
The manufacturing of blue kurta pajama fabric for men covers the summer/ Winter & Tropical Seasons. The following fabrics can utilize for the white kurta design for men.
Navy Blue Wash & Wear Kurta Pajama for Men: The most required & demanded and easy to available kurta pajama for men's, blue color kurta fabric with a huge range of colors, verity, stylings, and pricing.
Trendy Blue Kurta pajama designs for Men in Cotton: The everlasting and common fabric that is very popular among people of all ears. Mostly the youngster prefers the White, Black, Blue and Brown color to wear on special Islamic days like Jummah Mubarak, Eid Festive and most demanded in Ramdam and Eid Milad Un Nabi, or on family functions and events especially.
Karandi Kurta Pajama in Blue color for Men: The one lightweight fabric used to wear in both season in summer and winter. The colors in karandi fabric blue kurta for men are also very attractive.
Royal Blue Kurta for Men's in Raw Silk Fabric: The one-party wear fancy fabric mostly like to wear on wedding and family functions or some college parties with nice footwear. Blue Kurta Pajama available for men and kids in stitch & unstitch form.
Dark Blue Khaddar Men's Kurta Fabric: The mixture of cotton and wool fabric, manufacture especially for the season of winter wear kurta pajama and now with the blending of cotton and pollster the Khaddar fabric is also available as summer kurta pajama.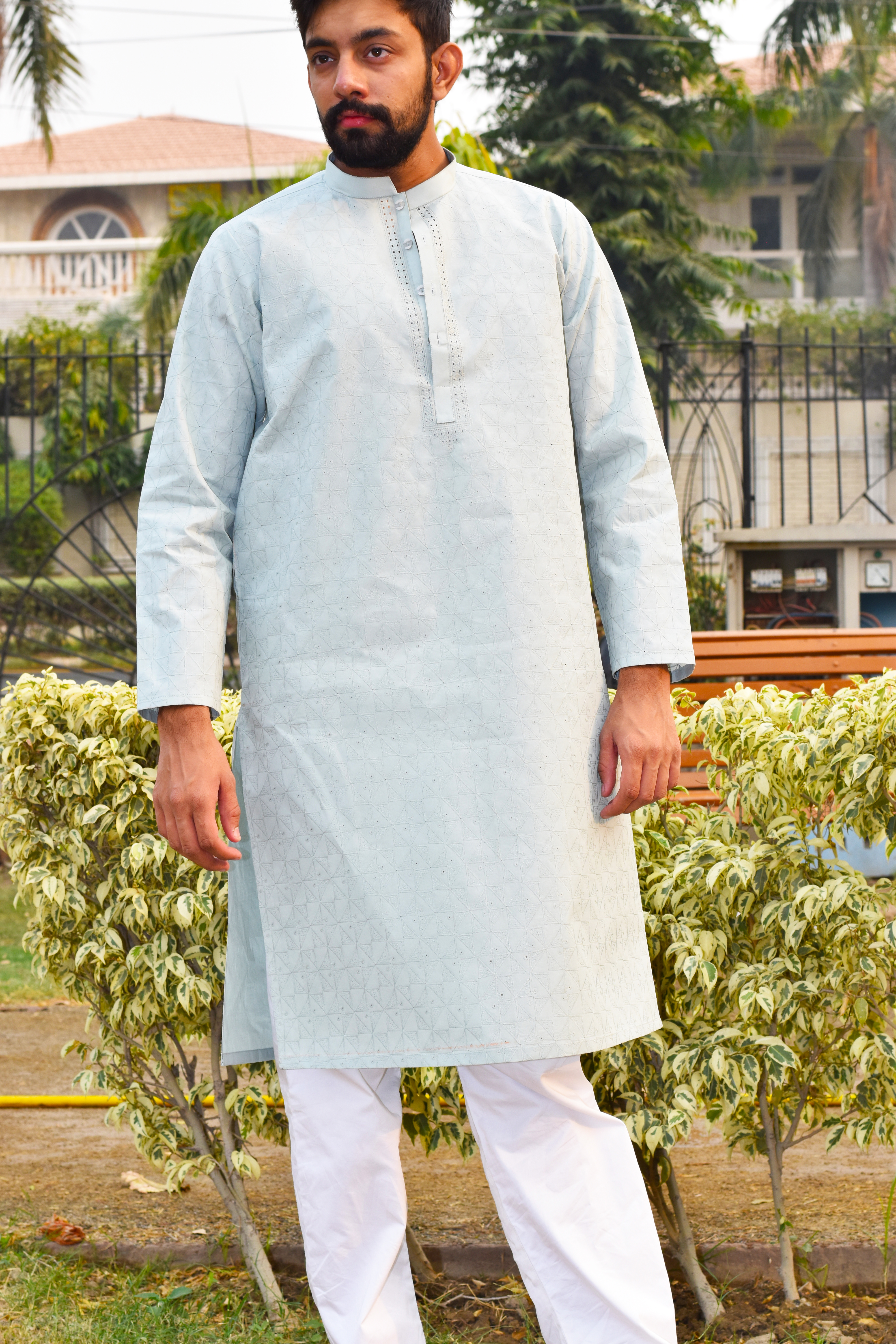 Men Linen Navy Blue Kurta Design: Soft and smooth fabric for men's kurta pajama & shalwar kameez that feels comfortable while wearing. This linen fabric kurta trouser for men available with cut lines styles and embroidery designs.
Blue color Kurta Pajama Latha Fabric for Men: A very graceful fabric for men, available in the number of colors and we are also supplying the Latha fabric to Pakistani famous including the Junaid Jamshed and Ethnic.
MOQ and payment method is very clear to the customer here. For international wholesale customers, the MOQ is 30 Kurta pajama stitch or Un-stitch with the PayPal, Western Union options. For Pakistani customers the MOQ is 20 suits stitch and unstitch with COD, Money Bank Transfer, Jazz Cash offers.
In the end, men kurta design/ men kurta pajama styles are available both in unstitch fabric and stitch form. The number of embellishments can be used to get the kurta stitched in multiple designs. Faisalabadfabricstore.com management use the best textile finished fabric in Cotton/ Lawn Cotton/ Karandi/ wash & wear/ Khaddar/ Linen/ Denim/ white Latha/ Boski/ Shamry fabric all which we have discussed above. At Faisalabad, we are the top exporters of plain kurta and embroidered kurta pajama to the UK, USA, UAE, Canada, Australia, and many other countries. Contact us over WhatsApp: +92332-6892363 or Email: [email protected]